The number one advantage when it comes to classic jewelry is that it can be worn anytime, anywhere. A jewelry item of such type that is widely popular is a Cuban link chain. A Cuban link chain is a piece of jewelry with oval or round gold rings interlocked. The overall pattern looks really sleek and serves as a staple to your outfits. Not only do these chains look pretty, but they are also designed with the best craftsmanship giving you another reason to get them.
Confused about how to buy the right chain? Then read below and get your ultimate guide to buying the perfect Cuban link chain! Here are the things and characteristics you must look into to get the right fit for yourself.
Different Types of Cuban Link Chains:
Before getting into anything else, you must decide which type of Cuban link chain attracts you the best. Cuban chain links come in two variants:
The Miami Cuban link is the ever-green, classic link chain style to this date. It became popular among the Cubans in Miami during the late 70s and 80s, and hence it was named after that. A Cuban link of this type features round or oval rings interlocked. A Miami Cuban link chain is available as a necklace and a bracelet.
A Prong Cuban link chain is what we can call a modern twist to the classic one. It differs slightly from the Miami Cuban links as they feature a woven square design. Like the Miami Cuban link, these are also available both as a necklace and a bracelet. Prong Cuban link chains just gained popularity a few years ago and are among the trendiest pieces these days.
Size and Length of the Chain:
The size of your chain can play a huge role in your appearance. Many people don't seem to pay heed to this, but choosing the right chain size is crucial. You may have seen celebrities and rappers donning different lengths of the chain. Usually, Cuban link chains are big and bulky pieces of jewelry that are heavy too. However, there are some variations in these that you can look into apart from the bold and chunky chains we've all mostly seen.
The typical average size of a Cuban link chain is around 4mm to 12mm. If you want to go for a bold look, then 8mm to 12mm will make your chain the statement piece of your outfit. However, a light chain of size 4mm to 8mm will look perfectly well if you are looking for a dainty look.
The thing with Cuban link chains is that no matter whichever length you choose, these pieces are created to stand out. If you're confused as to which length of chain to opt for, here's what can help you decide:
If you want your chain to be set loosely around your throat or above your collarbone, then a 14 to 16 inches chain is the one to get.
Get a 17 to 18 inches chain if you want it to set below your collarbone. Such lengths can help elevate your collarbone and add more stars to your already splendid look.
Most fashion magazines have models donning graceful outfits with a 20 to 24 inches chain. This is the length to go for if you want your chain to go down to your bust. This length is also the trendiest one these days.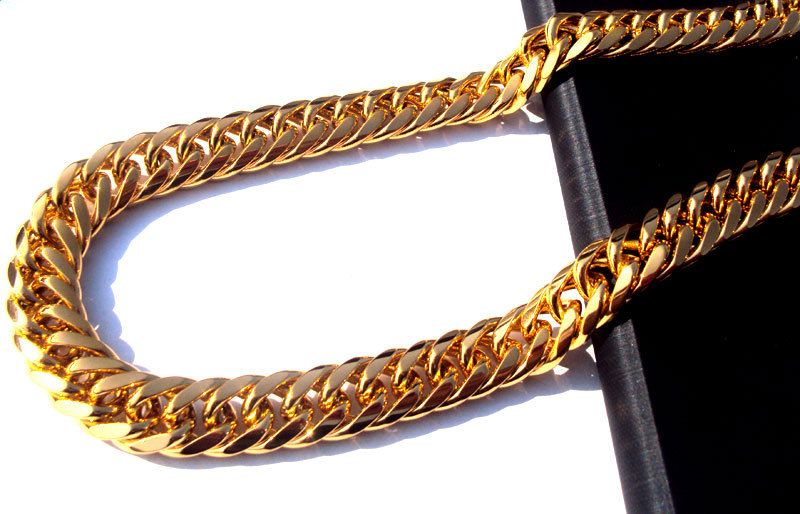 Material of the Chain:
No matter how visually appealing your chain looks, if its material is not up to the mark, getting it is of no use. The best jewelry items are those that can help you make a fashion statement without losing their spark with time.
Cuban link chains come in two colors, gold, and silver. You may be aware of how daunting it is to get a jewelry item of such materials. First and foremost, before getting into buying the right Cuban link chain, make sure that you find a good retailer. If you want to go for a silver link chain, then choose 925 sterling silver. This is because such a type of silver is 92.5 percent pure. Its shine and sparkle remains for a long time and also it's a little inexpensive. Also, let's not forget how any jewelry item in silver acts as the safest yet the most stylish option ever!
If you're more into gold jewelry, then the safest and most affordable option for you is to get a 14-karat gold chain. Such type of gold is easy to maintain and clean, and it's really durable as well. However, apart from getting a good quality Cuban link chain, it's also important to know how to clean it.
How to Clean your Cuban Link Chain:
Cleaning a chain will hardly take you minutes. It's important to incorporate this into your routine to ensure your Cuban link chain stays for the long haul.
If your Cuban link chain has stones in it, then it's best not to clean it obsessively. This can cause the stones to fall off. The best way is to soak the chain in mild warm water with a little detergent. After that, just use a soft brush or a damp cloth, and you're good to go.
You may be wondering if that's the cleaning method for link chains with stones, then how to clean my gold chain? There is no hard way to get your gold chains cleaned. You can simply follow the method above and flaunt your jewelry wherever you go!
Conclusion:
Cuban link chains have been popular for the longest time. One Cuban link chain is enough for your outfit to stand out in a crowd. These jewelry items are one of the most long-lasting and durable ones ever. Even though they are a little steeper price-wise, getting one won't be a bad decision at all. To sum it up, you can always count on a Cuban link chain to elevate your outfit in just seconds!
also read: https://newstimeusa.com/five-luxury-gift-collections-for-your-bae/