Blockster, a cryptocurrency social network, will shortly launch its own native token (BXR), which will be used for advertising and staking on the platform.
Cryptocurrencies have been around for over a decade, and as the industry matures, crypto aficionados will go to any length to enhance their return on investment. Despite the rapid rate at which blockchain is affecting a variety of industries, social media is trailing behind.
Blockster is a brand-new social network for the cryptocurrency community that aims to revolutionize the way crypto aficionados stay up with market trends.
The Blockchain Hustlers' Social Network
Blockster.com is a social media site that focuses on user-generated crypto and blockchain content.
The project's purpose is to fill a void in the market for a social platform that serves as a hub for up-to-date cryptocurrency news, advice, engagement, and money-making suggestions.
To keep things easy, the site is user-friendly, just like any other social media network, such as Facebook and CoinMarketCap. Blockster has a fun website that encourages community interaction, which is one of the most crucial components of the cryptocurrency world.
Blockster users can post crypto-related content and engage in active discussions with one another, which is the driving force behind the platform. Users may also discover and promote fresh crypto content, as well as write instructive pieces, while crypto startups and blockchain organisations can put up a company page, run ad campaigns, and build a fan base using the platform.
Blockster is a gathering place for crypto hustlers, movers, and shakers, thanks to its unrivalled community spirit. Because of its cutting-edge social network platform, which connects over 200 million crypto users globally, it will appeal to both the existing and rising crypto community.
Of course, Blockster has its own utility token, BXR, which drives all of the platform's advertising and commerce find out more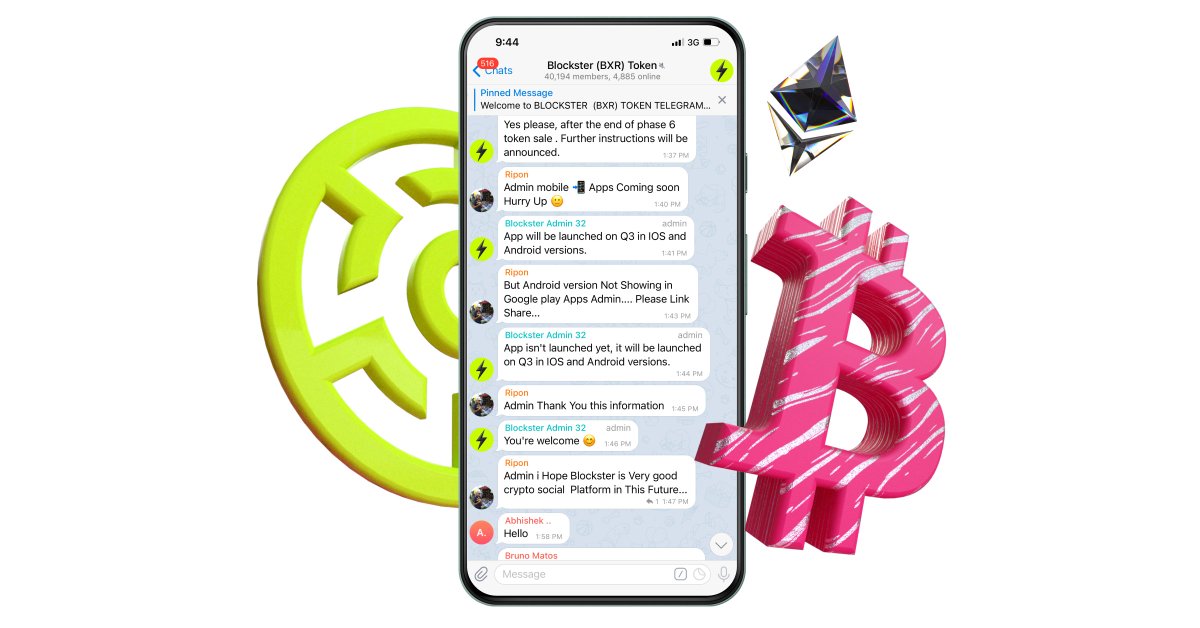 Let's have a look at the key features of Blockster.
Blockster is a crypto and blockchain-focused social network with user-generated content. It is aimed at bitcoin users who are looking for ways to profit from their investments and trading in digital assets.
The airdrop participants will get a total of 1,000,000 BXR from Blockster. To obtain 10 BXR tokens, sign up on their website, do simple social tasks, and submit your information. In addition, each referral will reward you 1 BXR.
Step-by-Step Instructions:
1. Go to Blockster's website.
2. Select "Join waitlist."
3. Fill out the form and sign up.
4. Log in and double-check your email.
5. Earn ten entries by completing easy social tasks.
6. Each entry is valued at 1 BXR.
7. For each referral, you'll receive 1 BXR.
8. After the token Blockster Phase 6 token sale, you will receive an email with instructions on how to claim your tokens.
9. When Facebook and Google, the world's two largest ad platforms, declared a blanket ban on crypto advertising in 2017, significant crypto companies were left with few options for reaching their target audience. These businesses used Medium, Twitter, and Reddit to communicate with their audiences. Even if the majority of people still use these platforms, the data is dispersed, making it difficult to explore efficiently.
10. From the perspective of crypto fans, there hasn't been a single, reputable source of knowledge until lately. To track the performance of their favourite projects, users had to rely on services like CoinMarketCap or CoinGecko, go to Reddit to discuss them, obtain the latest industry information on Medium and Twitter, or watch influencer reviews on YouTube. As a result, we were left with a disjointed social ecosystem for a developing market, making it difficult for traders and content creators to connect, assess information, and monetize their work – and this is where Blockster steps in to fill the void.